Invest in a Billion Dollar Industry
Discover Your Full Potential in a Trust Pro Franchise
If household appliances aren't working like they should, TrustPro Appliance is the first to call. Our franchise model has been strategically designed for entrepreneurs like you to easily step into this recession-resistant industry.
Since 2012, TrustPro Appliance has been driven by one goal - to provide the best customer service and appliance repair in the market. We are part of the incredible, trustworthy Home Alliance network. With competitive pricing, quality parts, and the most highly trained technicians, TrustPro Appliance offers a repair experience unlike any other. We have the ability to offer our franchisees with the resources of a corporation plus hundreds of employees and contractors. TrustPro Appliance can service all brands and models of appliances from major commercial units to home ovens and refrigerators.
What are you waiting for? Invest in this essential business! Invest in TrustPro Appliance today!
Personal Freedom. Financial Rewards.
Trust Pro invites you to be in charge of your time, enjoy freedom in your schedule, and to be a part of an essential industry. Benefit from our unique lead generation tactics and strong local marketing strategies!
The TrustPro Difference
Trust Pro utilizes a customer-first approach, providing dependable, trustworthy solutions to our clients. All parts and labor are backed by a 90 day guarantee plus a 1 year limited warranty on the appliance. This translates into strong customer retention rates and more referrals!
Necessity-Based Service
Working appliances are essential to a smooth day! The appliance repair industry is booming, proving to be a solidified investment choice.
Affordable from the Start
TrustPro offers you fair start-ups costs and low overhead. No technical knowledge is needed.
Strong ROI Potential
Our services are applicable in a variety of markets throughout the world. Our model has been built with profitability in mind so that you can enjoy a flexible schedule while running a successful operation.
Join the Trust Pro Franchise Family
We are seeking franchisees to partner with us who have the following qualities:
No Technical Knowledge Needed
Strong Work Ethic, Discipline, and Integrity

Client-First Mentality

Outgoing with Good Communication Skills
Business Acumen and Management Skills
Meets Financial Requirements
Support For Success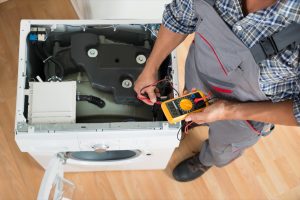 Comprehensive Training: We begin with training at our location, followed by hands-on training at yours. The Trust Pro team is approachable, offering continuous support, mentorship, and refresher training throughout the life of your franchise.
Operational Support: As part of our franchise network, you can rest at ease knowing you have a full team behind you in day-to-day operations, software troubleshooting, management, and customer service techniques. Your success is our goal!
Marketing Support: Benefit from our unique lead generation tactics and strong local marketing strategies! We hand you the tools that have made us who we are — stay top of mind for your community and penetrate the market quickly.
What Does it Cost?
Franchise Fee: $40,000
Estimated Minimum Initial Investment: $66,900 (with franchise fee)
Working Capital: $15,000 to $30,000
Start the Journey with Trust Pro
Begin the path to a lucrative future in the appliance repair industry— join Trust Pro today! Visit us at www.TrustProfranchise.com or email us at [email protected].