A TOP-TIER FRANCHISE OPPORTUNITY

Innovative Menu, UNBEATABLE ATMOSPHERE.
Three B's has been built from the ground up by seasoned restauranteur Brandon Bennet, offering gourmet burgers, wings, sandwiches, and more with a full liquor bar.
This New Orleans-based company prides itself in offering top-quality ingredients and furnishes all the necessities for an exclusive environment with no cost spared in what amounts to a great place to retreat from the daily grind while spending time with friends or family. We have an unmatched concept with great food and a warm, fun atmosphere.
The system itself is well-positioned and poised for growth with a proven track record and a highly experienced operations and management team.
Are you interested in owning a casual, inviting, neighbourhood go-to restaurant?
Three B's is the opportunity for you!
A Visionary RESTAURANT CONCEPT
The Three B's concept isn't your typical bar and grill.
All the food is sourced from direct suppliers and the management and visionary principles are derived from Mr. Brandon Bennett, and his surrounding team's vast experience and business acumen. Beyond a simple-to-operate franchise system and a highly experienced management team, here are a few more reasons to join the Three B's team.
Strong Potential ROI: Three B's has an extremely strong potential ROI for a franchise owner. The concept is financially sound and has been proven in the existing location. Our numbers are impressive in the franchise marketplace regardless of industry, but in particular when compared to other food-service models.
There's No One Like Us: Three B's is one of a kind. The atmosphere and ambiance, along with the innovative menu and wine list will make sure that there is nothing else like this in the franchise marketplace.
Integrity and Commitment: Three B's operates with a high level of integrity, credibility, and a commitment to strong customer service. Franchisees will be required to follow this same core philosophy for the operation of their location, as this is one of the key differentiators between Three B's and other restaurant operations.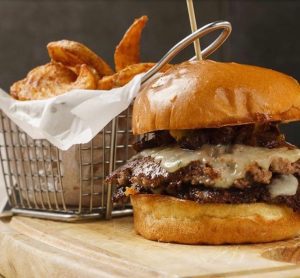 Operationally Sound: The Three B's model is operationally structured to run smoothly with full and part-time employees and a reasonable workload for an owner/operator. Workflows, process management, and experience in the field will allow for the Three B's model to be replicated efficiently with new franchise partners.
We Know What We're Doing: Three B's has two prototype locations that will provide a good representation of the model to be franchised. Beyond that, the ownership team has an outstanding track record in the restaurant space, as well as former franchise experience. The systems, procedures, and operating systems that have been developed to manage the business will strengthen the operating model and will allow for similar duplication in new markets.
ARE YOU A GOOD FIT FOR THREE B'S?
We are seeking franchisees who have the following qualities to join our team:
Incredible Work Ethic, Discipline, and Integrity
Strong Sales and Customer Service Abilities
Meet Financial Requirements
Leadership Mentality
WE'VE GOT YOUR BACK!
COMPREHENSIVE TRAINING
An extensive dual-phase initial training program will help set up our franchise partners with all the knowledge they need to run a Three B's restaurant.
OPERATIONAL SUPPORT
We will provide ongoing training and support in many areas, including unit operations, maintenance, customer-service techniques, product ordering, pricing guidelines, and administrative procedures.
MARKETING SUPPORT
We will coordinate the development of advertising materials and strategies, consumer marketing plans, and materials.
ONGOING BUSINESS DEVELOPMENT SUPPORT
Three B's management and leadership will continue to research methods and techniques for franchise operations (including purchasing and promotional schemes) that enhance unit-level profitability.
FINANCIAL SNAPSHOT
FRANCHISE FEE
$35,000
ESTIMATED MINIMUM INITIAL INVESTMENT
$365,550 (with franchise fee)
ROYALTY FEE
5% of Gross Sales
READY TO GET STARTED WITH THREE B'S?
Take the next step in becoming a part of the Three B's team.
To learn more, visit our website at threebsfranchise.com or email us at [email protected].