Stinkin Crawfish franchise
A Brand Set Apart
In February 2014, West Covina, California welcomed the first Stinkin Crawfish restaurant. With owner Jay Ly at the helm, Stinkin Crawfish has continued to expand and grow in popularity. With the vision of quality seafood, great service, and a nice atmosphere at the forefront of our mission, Stinkin Crawfish has been established as the go-to spot for delicious seafood. With a proven model and steady practices, our brand has been built into a solid business and is now seeking qualified candidates for an enticing franchise offering!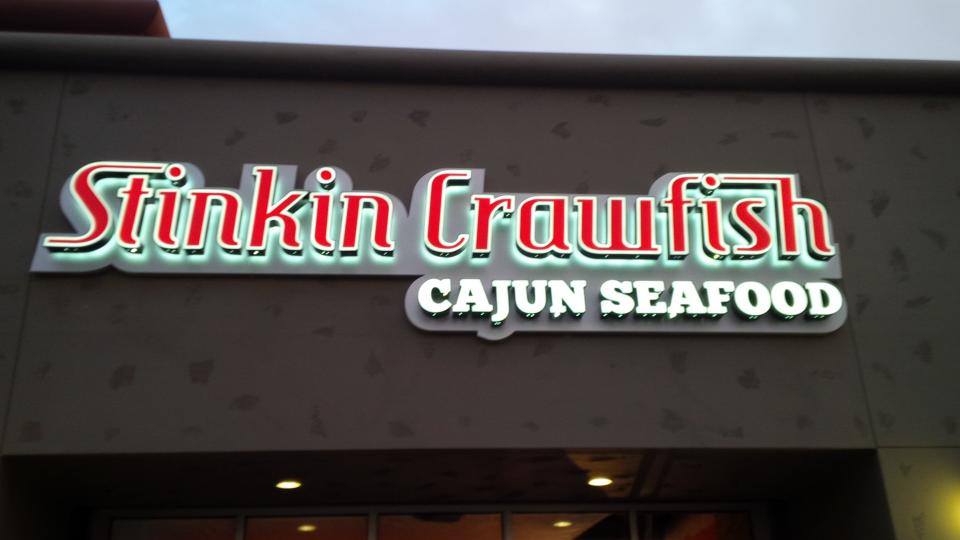 The mission of Stinkin Crawfish is to be the most complete and efficient franchise model providing its franchisees the opportunity to experience a rewarding, profitable, and efficient business model. Utilizing systems, processes, and a proven operating model, the Franchisor will train each franchisee in best practices and will implement a focus on product quality and customer service in a happy and upbeat environment. Through an effective franchise distribution model, Stinkin Crawfish will provide terrific ongoing support to its franchisees.
Stinkin Crawfish is Unlike Other Seafood Restaurants
Stinkin Crawfish offers an extensive menu full of mouthwatering favorites that build a fast and favored reputation within any city, including the ever-popular shrimp selection and deep-fried oreos. We are proud to offer fresh, top quality ingredients with a list of catfish meals, wings, oysters, and more. In addition to these favorites, customers can also order seafood by the pound, compliment their meal with delectable sides, and have their choice of drinks from a full drink menu. The Stinkin' Crawfish atmosphere is fun and family-friendly, appealing to the masses with ease. We know seafood better than anyone else and are ready to share our highly sought after recipes throughout the nation through franchises.
Stinkin' Crawfish is one of a kind. The atmosphere and ambiance, along with the innovative menu and drink list, will ensure that there is nothing else like it in the franchise marketplace. Beyond that, there is a focus on quality service that is rewarded with higher per-transaction revenue and overall profitability of the business.
Concept + Facilities
The Stinkin Crawfish operating model has been structured with well-defined processes and systems in place, which allows for ease of replication and will make for a straightforward training program with new franchise partners.
The Stinkin Crawfish facility will be a fixed retail location in a mid to high-rent area to provide an inclusive feel and plenty of foot traffic. The operating model is relatively simple from an operational standpoint, but delivers an extremely diverse and quality experience to the customer with great results to the bottom line. The Stinkin Crawfish model offers consumers the opportunity to purchase an amazing selection and variation of Cajun food and beer and wine, all at competitive prices.
Locations will range in size up to 2,750 square feet and will be located in areas with annual rent per square foot of $2.50 to $4.50 (monthly) on average. The interior of each location will be bright and inviting with appropriate branding, which may be localized by the franchisees.
Employees and management in the units should be courteous, professional and should have an expert understanding on the menu as to offer an educational dining experience. They will have branded uniforms and will enrich the high-energy environment that sets Stinkin Crawfish apart from other settings.
Although the menu items may vary slightly by location, most of the products carried by each Stinkin Crawfish location will be purchased through the Franchisor or an affiliate/third-party company. The Franchisor will have final approval of anything sold in the business.
A Revolutionary Opportunity in Franchising
What else makes Stinkin' Crawfish the go-to franchise option within the restaurant industry?
Exclusive Territory
Early adopters have the opportunity to obtain exclusive territory rights for their very own Stinkin' Crawfish. This means you have exclusive access to a population of around 50,000 people who we think will love our food as much as we do (or a 3-mile radius from the location).
Customer Loyalty
We understand that the restaurant business is one of winning the loyalty of its clientele. We believe that our premium recipes and high standards of customer service is what delivers an experience that beckons for brand loyalty from our visitors.
Years of Industry Experience
We have been in the business of delivering mouth-watering cajun seafood for quite some time, with over 8 locations testifying to our top-notch food and service. Stinkin' Crawfish comes with solid industry knowledge that gives us an advantage over the competition.
Proven Business Model
The Stinkin' Crawfish model has been tested and tried within its company-owned locations for years. We understand exactly what the business needs to flourish within any location and deliver those resources into the hands of our franchisees.
Qualifications
food complimented by Cajun spices is always in high demand and is a solid investment for any business-minded candidate. Particularly, Stinkin' Crawfish is seeking individuals with the following qualifications:
A high level of credibility, as well as a commitment to strong customer service, are must haves for our candidates. Franchisees will be required to follow in this same core philosophy for the operation of their location, as this is one of the key differentiators between Stinkin Crawfish and other seafood operations.
Strong sales and customer service abilities are the foundation of a Stinkin' Crawfish candidate. We want a "people person" who will bond with customers and maintain the loyalty of each Stinkin' Crawfish visitor through authentic conversation and wonderful service.
Great time and schedule management skills are a must-have for our franchisees. Stinkin Crawfish is a bustling, busy restaurant which requires excellent oversight of the timing and scheduling of all moving parts.
A top-notch restaurant experience goes beyond perfected recipes and delicious food. High-quality customer service is what attracts customers in time and time again. We want individuals who take honesty, integrity, and excellence as seriously as we do.
Multi-tasking abilities are a must-have. Staying on point with P&Ls, inventory, ordering, and staff means that a franchisee must be able to stay organized and compartmentalize their business.
We need candidates that meet the initial financial requirements in order to successfully launch their business.
A person who meets the above qualifications may be a great fit for our company! We want candidates who believe in the Stinkin' Crawfish brand and who want to consistently serve premium, quality food and drinks, all while running a smooth business operation and deliver- ing
amazing customer service. Finally, franchisees should have a background in management and
should be proficient in problem solving and decision-making. We want to work with folks who have prior business ownership experience if they intend on being the owner/operator.
Our Support
You aren't just buying a name; you are buying proven operational practices that have kept our business solid for years! We provide ongoing training and support in many areas critical to the success of the franchisee's business, including unit operations and maintenance, customer-service techniques, product ordering, suggested pricing guidelines and administrative procedures.
Marketing Support
Exclusive to your territory, Stinkin Crawfish will coordinate the development of advertising materials and strategies just for you! It will also supply its franchisees with consumer marketing plans and materials for use at the local or regional level. We keep the customers coming in!
Purchasing Perks
We need to mention that on top of an already affordable and highly profitable franchise, we will also negotiate quantity discounts on behalf of all of our franchisees, meaning more savings for you! We facilitate the ordering process through an internal purchasing system, which includes elements such as consumables, food, retail items, marketing materials, and other needed items for operating your Stinkin Crawfish location.
Other Areas of Support
Stinkin Crawfish will provide initial oversight for financial, legal, and accounting elements for its franchisees. Additionally, we strive to discover and research methods and techniques that will enhance profitability.
Ongoing Research and Development
Stinkin Crawfish management and leadership will continue to research methods and techniques for franchise operations (including purchasing and promotional schemes) that enhance unit-level profitability. There will be continued research and development on how to better operate the locations and how to more profitably manage a Stinkin Crawfish franchise.
Interested Complete the contact form for more information today!