The First Dominican Salon Franchise!
Be Your Own Boss with Salon 809!
Salon 809 was founded in 2015 by Jeimy Flournoy on the principles of customer-focused service and keeping hair beautiful and healthy. We have successfully built our clientele around these principles since our inception and continue to grow year after year!
Our franchise system is built with your success in mind, has low overhead costs, and boasts affordable start up fees. What are you waiting for? Today is the day you can be your own boss, launch your own business, and start building a solid future!
Step Into the Lucrative Beauty Industry!
Part of our mission at Salon 809 is to focus on each and every customer as a person, not a number. With this philosophy as our basis, we've set ourselves apart from other Dominican salons around. What else makes us a fantastic investment choice?
Our Approach- We understand all types of hair. With a racially diverse suite of services, we earn the loyalty of a range of individuals. Every client —and their hair — matters. We ensure their hair stays healthy and they stay happy!
Simple-to-Operate- Do you have the hair know-how but aren't sure if you can operate your own business? We've made it simple and straightforward, plus are here to support you every step of the way within our profitable model.
Our Services- Clients find a wide range of services at each Salon 809, including organic hair treatments, Brazilian knots, waxing, and more — meaning multiple revenue opportunities for your franchise!
Our Founder- Jeimy Flournoy has over 18 years of beauty industry experience. As an industry leader, she will support you with exceptional wisdom, oversee site selection, and provide you with the tools needed to see success happen!
Our Franchisees Are a Cut Above the Rest
We are seeking franchisees to partner with us who have the following qualities:
Motivated and Driven
Schedule Management Skills
Committed to Incredible Customer Service
Integrity, Excellence, & Good Character.
Meets Minimal Investment Costs
Support That Never Stops
Comprehensive Training: A detailed, three-phase training program sets you up with all the knowledge you need and continues to keep our franchisees in the know.
Operational Support: We've got you covered in everything including new business development, lead generation, product development, and more!
Marketing Support: We will coordinate development of advertising materials, strategies, plans, and marketing collateral designs.
Ongoing Research and Development: We'll continue to research new techniques and methods to enhance unit-level profitability, including purchasing and promo plans!
Investment Overview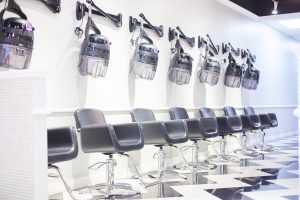 Franchise Fee: $10,000
Royalty Fee: 6% of Gross Sales
Minimum Initial Investment Starts Around $159K

(including franchise fee)
This Ground Floor Opportunity Starts Here!
Be a part of a unique niche of hair care. Begin the journey to a better future and a fun day-to-day career! For more information, visit our website at www.salon809.com/franchise or email us at [email protected]