A Trailblazing Rim Repair Franchise
A High Quality, Safe, and Effective Rim Repair Business
RGX Rim Repair was founded with a mission to provide high-quality, cost-effective, and safe rim repair services to our customers. We have four locations and over 18 vehicles to provide field wheel repair and restoration services. We also partner with car dealerships to provide our services that have helped increase their overall appeal and value in selling cars. Our services include:
Rim Straightening RGX True Round Wheel System
Bent Wheel / Rim Restoration
Curb Damage Rim Repair
Factory OE Wheel Replacements
Powder Coating
Corrosion
Custom Color Matching
Polishing
Restoration of Brake Calipers and Wheel Dust Shields
We are growing fast and are looking for new partners to join our franchise team.
Why You Should Franchise with RGX Rim Repair
RGX Rim Repair provides a professional and convenient service to customers. Our experience has helped us develop a proven business model that allows for franchise replication.
Simple-to-Operate: We have an efficient structure that allows for ease of operating management. Our model was made for ease of replication and a straightforward training program for new franchise partners.
Efficient and Streamlined: Through our experience, we have developed a proven system and process. With our mobile service and brick-and-mortar locations, we are able to provide you with a launching pad.
We Are Experts: RGX Rim Repair has been in the industry for over a decade. Our experience working with car dealerships and customers has contributed to our fast expansion.
Strong Potential ROI: RGX Rim Repair is an affordable step into the automotive industry with our streamlined process and consistent delivery of quality.
Are You a Good Fit for RGX Rim Repair?
We are seeking franchisees who have the following qualities to join our team:
Incredible Work Ethic, Discipline, and Integrity
Strong Sales and Customer Service Skills
Meet Financial Requirements
Leadership Mentality
Franchisee Support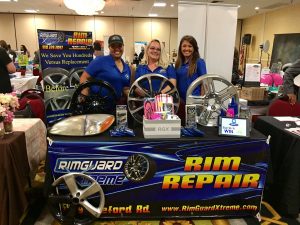 Comprehensive Training: An extensive dual-phase initial training program will help set up our franchise partners with all the knowledge they need to run a RGX Rim Repair franchise.
Operational Support: We will provide ongoing training and support in many areas, including unit operations, maintenance, customer-service techniques, product ordering, pricing guidelines, and administrative procedures.
Marketing Support: Take advantage of our established brand. We will coordinate development of advertising materials and strategies, consumer marketing plans, and materials.
Ongoing Business Development Support: We will provide our continued research methods and techniques to enhance unit-level profitability.
Are You Ready to Spin the Wheel with RGX Rim Repair?
Take the next step in becoming a part of the RGX Rim Repair team.
For more information on the franchise, please call 980-482-1428.