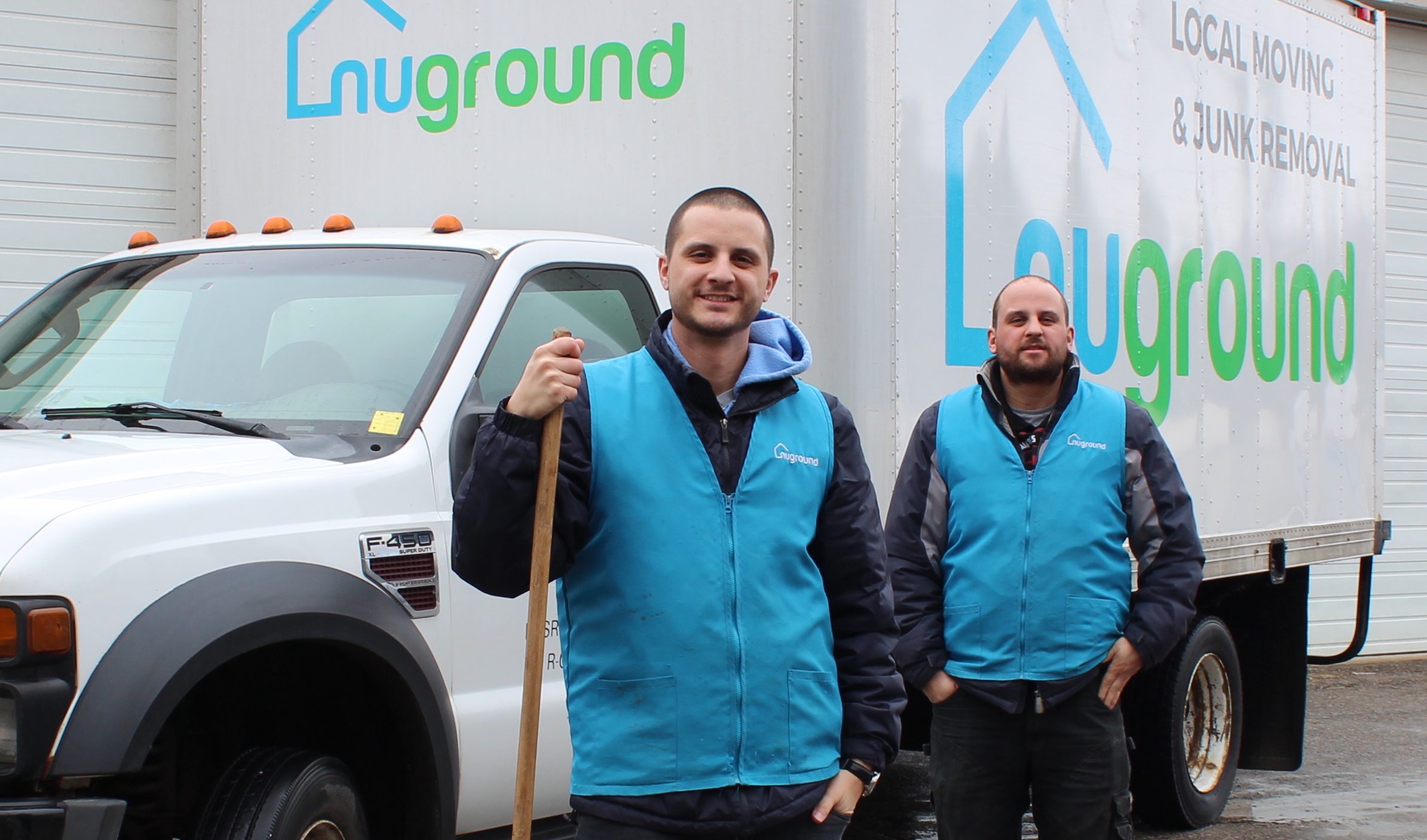 At NuGround, our goal is to provide freedom and peace of mind to homeowners by offering them reliable, high-quality relocation services and outstanding customer care. More specifically, the services we provide include local moving & junk removal.
Now you can launch your own successful moving and junk removal business by leveraging the systems, branding, and marketing power that NuGround has established over years of hard work and fine-tuning.
Unlock your true potential!
Take control of your financial future
Be your own boss and lead a team to success
Offer high-demand services in a tried-and-true industry
Grow your team and scale your business
The Benefits of our system
In-Depth Training
NuGround franchisees and and their staff will receive 3 weeks of hands-on training prior to launching. We will cover every step required to make sure that you're ready to launch your new business!
Marketing Blitz
Training will also include a 3-day marketing blitz where we will stand by your side and help you market your services in your territory while at the same time teaching you how to continue getting your brand out to the masses.
In-House Call Centre
NuGround headquarters will provide call/email reception and quote scheduling so you can spend more freedom to connecting with customers, managing your staff, and growing your business.
Clear Strategy
NuGround sits in a great position in the franchise market with a strong operating model in place and a strong differentiation from the rest of the competition in the franchise marketplace. NuGround is a unique and high-performing exception within a lucrative industry.
Simple Structure
No need to reinvent the wheel. Local Moving and Junk Removal are tried-and-true services that are in constant demand. The company's
operating model is simple and has been structured with well-defined processes, allowing for ease of replication.
Ongoing Support
NuGround management team will offer unrivalled training and support to each franchisee as they join the NuGround family. Your success truly is our success. We will be right there to help you avoid costly mistakes and assist as your business expands.
Join NuGround and make a difference in your community and your life today!
The NuGround concept is one that relies on consistency, accountability and a dedication to service through a territory-based service structure. The operating prototype in Toronto has given the leadership of NuGround a strong understanding for the local moving & junk removal business model. The NuGround model is based on the tenets of hard work, customer service, professionalism, and community.
Beginning in Ontario, NuGround will expand across Canada and the United States in a planned expansion within targeted and defined regional markets. In order to ensure the success of its franchisees.
Our Ideal Franchisee
NuGround is looking to partner with G . R . E . A . T franchisees who can demonstrates the following key characteristics:
Go-Getter: has an entrepreneurial spirit , is hands-on, and goes the extra mile to achieve success
Resilient: faces challenges head on and does not quit during tough times
Energetic: is in a constant state of action and inspires his team to do the same
Accountable: takes full ownership of any mistakes that may arise in business and does what is necessary to maintain the company's reputation
Team-oriented: is adamant about building and leading a great company of people that demonstrate good values
Franchisees will essentially be sales and project management operations. They will work to ensure that the service and price are competitive to the market while welcoming repeat and referral business. through the corporate office to control quality and provide economies of scale. Typical clientele of NuGround includes residential and commercial customers, homeowners, contractors, real estate agents, apartment owners, property managers, real estate investors, government and landlords.
A franchisee will not necessarily need a large staff initially and should be able to manage the workflows effectively within NuGround's system with a few employees. As the business grows and a franchisee expands, they will grow progressively.
A revolutionary opportunity in franchising
The NuGround model is simple and structured efficiently to provide profitability and ease of operating management for individuals looking to get into business on their own. One of the key things that contributes to NuGround's success is the fact that NuGround offers a not one but two high-profit and high-demand services that often go hand-in-hand. NuGround allows you to set your business apart from competitors simply by being more versatile and flexible. This unique operating model allows for ease of replication and will make for a straightforward training program with new franchise partners.
Tried-and-true services
Local Moving
We specialize in performing small to medium-sized moves that normally require 2 - 4 professional movers. We have the trucks, tools, and the expertise to make sure everything gets done right and on time! We offer our local moving services to residential and commercial clients. Our services are great for
House & Apartment Moves
Local Deliveries
In-Home Moves
Loading/Unloading Containers
Senior Moves
Home Staging Projects
Junk Removal
We offer full-service junk removal and garbage disposal. We bring 2 - 4 professional movers and our 16' truck to your location and we haul away unwanted items. We donate /recycle as many items as possible! We offer our junk removal services to residential and commercial clients. Our services are great for
Estate Clear Outs
Furniture Donations
Decluttering Projects
Downsizing Projects
Home Renovations Clean Ups
Spring Cleaning
The next step
Join an emerging concept serving the increased need for a better company. Join the growing number of owners who have taken control of their futures. Join NuGround franchise.
To take the next step toward independent business ownership in the franchise industry, please fill out the form.