WHAT IS No-H2O?
No-H2O is a waterless car-cleaning product that is unrivaled. It can be used on the exterior, interior, windows and on all levels of dirt from light traffic film to heavy road grime. Our scratch free formula leaves an amazing polished finish and has been approved by Boeing and Airbus for use on commercial aircraft.
No water, no hoses, no buckets, no sponges and no mess. The products can be used anywhere and anytime, indoors and outdoors.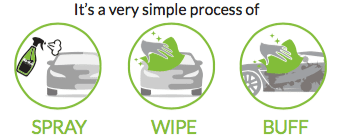 Purchasing a No-H2O master franchise ensures the franchisee operates an exclusive territory, city or entire country. We implement extensive planning and training to launch in a chosen territory leveraging our digital data and 10 years' operational experience to identify the fastest route to market with the quickest ROI for the master franchisee. A master franchisee will have access to all 3 levels of franchise including:
No water, no hoses, no buckets, no sponges and no mess. The products can be used anywhere and anytime, indoors and outdoors.
LIKE UBER BUT FOR CAR WASHING,
NO-H2O ON DEMAND WILL REVOLUTIONISE URBAN CAR CARE.
Targeting time-starved busy consumers, No-H2O On Demand is a pure convenience based service driven through a mobile app, giving the consumer a totally new and unique experience when it comes to car care.
Our waterless product offering is so unique that a car can be cleaned anywhere and anytime. The primary focus of our App is user experience with a clean user interface that enables a car wash service to be booked in just 4 clicks.
Our operators can deliver our waterless carwash services via a number of different modes of transport including cars, vans, scooters and even bicycles. The app generates a digital ecosystem of valuable user data enabling cost-effective targeting and re-marketing to the consumer.
STATIC FRANCHISE
We have developed partnerships with a number of high profile carpark operators in Europe, which has led to No-H2O being the preferred supplier of car care within these carpark networks. We supply complete state of the art fit-outs and multi-year agreements/licenses to operate waterless car cleaning services within the carparks. These locations offer the No-H2O franchisee an immediate captive audience to generate business. Currently within our static locations, 70% of our customer base purchase our service on impulse and the remaining 30% book online.
We ensure the location of our franchise within the car park is well placed and has strong POS to capitalize on both purchase behaviors. No-H2O franchisees can also operate a roaming trolley services within selected carparks approaching potential customers to avail of our services.
CORPORATE FRANCHISE
Our waterless system enables cars to be cleaned anytime and anywhere. No water means no drainage and no mess and this has led to No H2O developing lucrative contract partnerships with a number of large corporates. Large corporations no have a better understanding the value in a happy workforce. As a result, our valeting service has been developed as part of staff incentives often with a subsidy provided by the company for their workforce.
These corporate contracts can be sold as single franchise offerings or bundled contracts creating a route of corporate clients. Corporate franchises come with a fully branded "Pop Up" style valeting/detailing system enabling franchisee to set up in the most convenient location.
Current corporate contracts include:
HOW WILL A NO-H20 FRANCHISEE GENERATE BUSINESS?
The franchisee will be free to generate its own clients within our operational guidelines and will also be assisted by the No-H2O Head Office marketing consultancy service. This service offers ideas and techniques to penetrate various level of customer. Where applicable No-H2O will provide corporate contracts with existing and future business partnerships.
HOW MUCH ARE THE ANUAL ROYALTY FEES?
No-H2O franchisees are required to purchase a minimum order of products per month. Our On Demand App franchisees pay 30% commision/ royalty on all jobs. The corporate franchisees pay between 15-20% commision/ royalty.
This fee is calculated taking into consideration the size and turnover of the franchise. All marketing fees will be accumulated and will be used to the benefit of all franchisees.
WHAT TRAINING IS PROVIDED?
No-H2O will provide franchisees with substantial training at the No-H2O training centre in Dublin, Fort Lauderdale or Dubai in another allocated training facility. Training will include cleaning processes, basic business management, customer care, customer approach and No-H2O business ethics.
WHY No-H2O?
OUR UNIQUE SELLING POINTS
On Demand App can be switched on and operational in a matter of days.
• Valuable digital data harvested from our App to analyse and develop the business.
• Strong environmentally friendly brand offering exceptional customer experience.
• Quick multiple franchisee roll out capability within 12 months.
• A variety different franchise models offered maximizing earning potential & return.
• Our services can be applied to many sectors; cars, coaches, buses, trucks, aerocare etc.
• Innovative product means vehicles can be cleaned anywhere – no buckets, sponges, hoses & NO WATER.
-
• Product certified by leading aircraft manufacturers Boeing and Airbus.
• Extensive product range with distribution opportunities for trade and retail sectors.
• Head office marketing consultancy to drive customers to No-H2O Franchises.
• On-going certified training for all aspects of the business.
• Negotiating & planning assistance for franchisees when applying for tenders or new outlet locations. • Access to No-H2O's suppliers and trading partners.
MASTER FRANCHISE PRICE REQUIREMENTS
The price for a No-H2O Master Franchise can vary from country to country due to size & population of country, market size & growth potential. The Master Franchise Price will also be calculated from the net present value over a 3 year projection. To purchase a No-H2O Master Franchise a minimum investment of €125,000 is required. Included in the price is one static carpark franchise which will be a functioning car wash detailing franchise and training centre. Also included all the other equipment and products needed to operate the franchise plus all the other equipment needed to operate the franchise. Plus por on demand app will be localized to the region/country with our roll out and marketing plan.

Interested? Complete the form today for more information!