WHAT IS KINDER KARATE®
A One-of-a-Kind Child Development Franchise
Based in Pittsburgh, Pennsylvania, Kinder Karate® is a premier child development program that combines the best of sports and fitness training with character building lessons.  Our pioneering program has set the bar for excellence and results in the children's arena.  Our franchises offer classes for boys and girls ages 3 – 6, and use the foundations of martial arts training to build lessons that are dynamic, positive, and most of all, FUN!
Why are success-minded people drawn to the Kinder Karate® franchise opportunity? Aside from the appeal of an active career and the ability to make a difference in the lives of kids, our model makes a huge difference in the lives of our franchise owners and their families!  Our franchises are a "hybrid" home-based, mobile and traditional, and offer our franchise owners the freedom to finally control their time, finances, and most of all - their lifestyle!
Our Goal: To Change the Way Very Young Children are Taught and put the FUN Back in Learning
Kids come to us because they are a ninja or superhero in their own minds already, and parents come to us because they want something deeper than just a play gym or a basic sports class. Kinder Karate® Franchise owners can offer these parents an alternative to what is out there for this age group today: unstructured, chaotic sports classes, or art-related classes where their children are dressed for the part, but there's no substance to the lessons.  Our programs give age-appropriate instruction that's FUN, yet practical.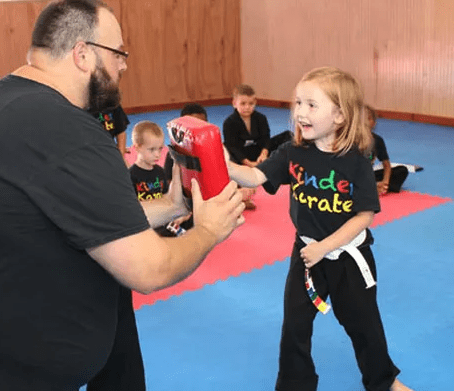 Kinder Karate® Franchises Offer More Than Just a Physical Skill
There are many reasons Kinder Karate® has become a premier source for child development.  One of these is its character building lessons, which are built directly into the program.  Kinder Karate® Franchise owners teach character concepts in terms of concrete, identifiable goals, and give parents the tools they need to start conversations at home. These extras give our programs an advantage over our competitors, in every arena.  No other sport or activity is tackling these issues "out loud" in a concrete, identifiable way.
JOIN THE KINDER KARATE® TEAM
We are eager to partner with passionate, active-minded entrepreneurs who enjoy kids, and believe working with them would be fun. Find out
more about becoming a Kinder Karate® Franchise owner.
Complete the form to learn more today!