Why a KB Pizza franchise?
With extensive distribution operations for nearly 20 years, and almost 100 in the food business, the management team of KB Pizza has a proven background that brings a wealth of business knowledge and experience.
The company is now looking to expand into the retail restaurant space and is looking to open several company owned units, as well as an accompanying franchise program, to add channels of distribution as well as brand recognition around the US. The restaurants will be fast-casual pizza operations offering take and bake options, as well as the traditional pick up and delivery.
About Us
KB Pizza prides itself on over 20 years of quality and excellence. Our product capabilities range from raw pizza dough, to self-rising par-baked, and the new open-cell panbake deep dish crust. The new crusts are used by many pizza stores to serve their customers faster.
Are you wondering what KB Pizza can do for you? Well, a lot actually! KB Pizza is very versatile. What does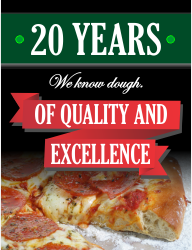 this mean to you? It means if you want something baked or raw, whether it be a new recipe or a best-seller, KB Pizza can produce it for you. All it takes is a phone call, and you can become one of the many KB Pizza's satisfied customers. As the products show, anyone from the amateur to the experienced pizza maker can benefit from a quality KB Pizza product.
There is no stopping KB Pizza. Your dream pizza product can easily be made into reality. Just call the number on the contact page, or write or email your questions to the addresses provided.
KB Pizza has a HACCP plan in place, follows all of the Bakery Industry codes, and is ready to handle any challenges that may arise throughout production and shipping. KB Pizza is ready to satisfy the customer in a timely manner to ensure continued quality service.
Qualifications
At KB Pizza, our Franchisees are part of the family. Think you have what it takes? We are looking for financially qualified, community-oriented franchisees that are a good culture fit with our franchise system. Our franchisees share the following qualities:
Shared Values. We look for people who are committed to making KB Pizza an integral part of their community. Are you enthusiastically involved with schools, clubs, churches or other community organizations? Are you passionate about participating in cultural activities and committed to giving back to the community?
Teamwork. We look for individuals that are excited about working within the team and contributing to our franchise system. Our franchisees are eager to make full use of the tools that we provide them, and always looking for ways to improve the KB Pizza experience for everyone!
Leadership Ability. We don't require restaurant experience, and our franchisees come from all walks of life. What makes them successful is the ability to lead their team members effectively and serve as a role model in their community. Often, this ability comes from a previous small business or management experience
Interested? Complete the contact form today for more owner details!