Life is About to Get Much Sweeter
The Sweet Taste of Luxury
Heavenly Desserts is an industry leader in the desserts niche creating handcrafted, artisan desserts since 2008.
We have defined a new standard in delectable sweet treats, iced with delectable innovation. Currently, Heavenly Desserts boasts over 40 units in the UK, bringing brand power and experience that packs a punch in the market!
Our team has strategically designed an exciting franchise opportunity full of on-point support, leadership experience, and field guidance to make the dream of entrepreneurship a reality. We invite you to be a part of a thrilling, unique investment, full of delicious uniqueness and proven systems.
Join Heavenly Desserts.
A Heavenly Investment
Heavenly Desserts connects you to a full repertoire of mouthwatering menu options served within a model proven to work.
Every piece of this investment is infused with heaven — this is truly the sweetest business to be a part of! Every item we serve is prepared with the utmost attention to detail. It's not just the taste that sets us apart — our atmosphere and presentation drip with luxury. Heavenly Desserts is an experience that is truly divine.
Our team will provide site selection services to help find the ideal location for your unit. Choose the best model option for you:
FLAGSHIP (1,800 – 2,300 Square Feet)
Our larger 80+ seat cafes are primarily for larger towns or cities. Serving a full delectable menu, this location boasts a truly luxurious atmosphere within a primary or secondary location with great parking.
CAFE (1,500 to 1,800 Square Feet)
These outlets seat around 50-60 seats for small to mid-size towns. The same sumptuous menu is offered, combined with our beautifully created decor creates an unbeatable, relaxing and warm atmosphere.
NEIGHBORHOOD LOCATION (800 to 1,000 Square Feet)
Typically found in residential areas, this model has a max of 30 seats. Takeaways and home delivery are available!
Own Your Own Slice of Heaven
We are seeking franchisees to partner with us who have the following qualities:
Strong Work Ethic, Discipline, and Integrity
Onboard with Company Culture
Client-First Mentality
Outgoing with Good Communication Skills
Business Acumen and Management Skills
Meets Financial Requirements
Support to Sweeten the Deal
Support to Sweeten the Deal
Enjoy strong ongoing support from our experienced franchise support team.
Leveraging the experience gained from our current franchise units, we understand what our franchise partners need and how to meet those needs.
COMPREHENSIVE TRAINING
We begin with training at our location for four weeks at our headquarters in England, followed by hands-on training at yours. The Heavenly Desserts team is approachable, offering continuous support, mentorship, and refresher training throughout the life of your franchise.
OPERATIONAL SUPPORT
As part of our franchise network, you are in business for yourself, but never alone. Support continues including unit operations, maintenance, customer-service techniques, product ordering, pricing guidelines, and administrative procedures.
MARKET SUPPORT
Our expert team will coordinate the development of advertising materials and strategies to be used across the entire network. Plus, we'll supply you with consumer marketing plans and materials for use within your local area.
Affordable and Built for Profit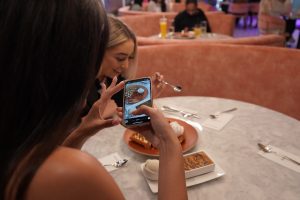 Financial freedom is within reach through business ownership, and Heavenly Desserts can help you get there.
High-profit margins produce strong potential revenue. Plus, our investment is affordable — take a look at our numbers:
FRANCHISE FEE
$40,000
ESTIMATED MINIMUM INITIAL INVESTMENT
$223,100 (with franchise fee)
ROYALTY FEE
5% on Net Sales
CONNECT WITH US
Ready to join our franchise network? Visit us at www.heavenlydessertsfranchise.com or email us at [email protected].