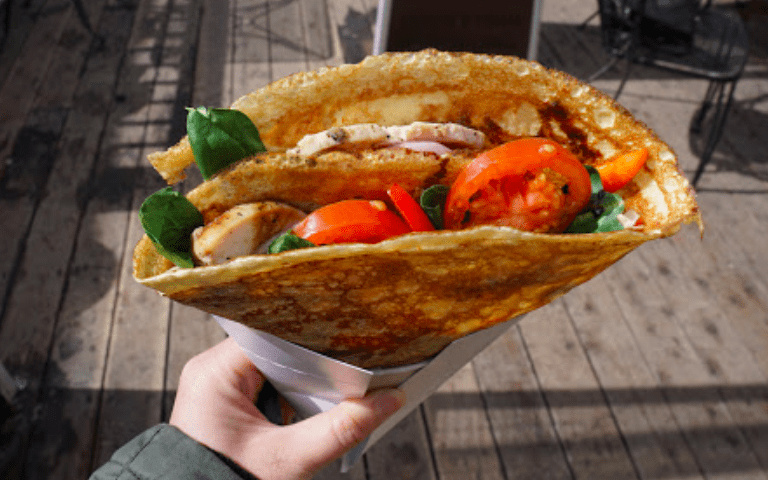 About Us
Crepes A La Cart is an award-winning, Colorado based, Crepe cart that started in 2000. The business has meandered and evolved over the years as the ownership team tried new locations and new models from which to grow. More recently, Crepes A La Cart opened a brick and mortar location, referred to as the "Kitchen" as a differentiator from the "Cart".
The new location pays homage to the namesake of the business (the original cart) and has been a financial springboard for the company over the last twelve months. In both businesses, the original, authentic recipes have withstood the test of time and have helped make Crepes A La Cart what it is today. The boutique café serves a wide array of sweet and savory crepes for lunch or dinner, as well as a full selection of breakfast crepes. The menu represents the lifestyle, culture, and spirit of the often-influential French cuisine.
The concept fits the needs of many different types of customer demographics, allowing for a wide range of ideal locations that could fit the Crepes
A La Cart business model. Currently, from its two company-owned units in Breckenridge, Crepes A
La Cart will be franchising the company's operations in order to bring its delicious crepe menu to all parts of the United States.
Support
When you join the Crepes A La Cart team as a franchise owner, you will receive outstanding support in a number of different exciting areas including:
OPERATIONAL SUPPORT
MARKETING SUPPORT
PURCHASING SUPPORT
ACCOUNTING & LEGAL SUPPORT
ONGOING RESEARCH AND DEVELOPMENT
Territories
Exclusive territories can offer a competitive advantage in the franchise sales and marketing environment. As a result, the Crepes A La Cart franchise system will be granting its franchisees an exclusive territory. The typical territory will include a defined area and will be documented as a 50,000 to 100,000 population center or a 10-mile radius from the location.
Territories will be mapped based on the individual market circumstances for each unit sold. We will map out an area based on market research and the most recently available census data to come to territory modeling conclusions. A franchisee should mimic the market of the existing Crepes A La Cart model based on a $50,000+ median income and a demographic that contains families and young people with discretionary income.
Each territory will be defined as an area on a map that will be based on zip code and it will be decided by a number of factors including population, median age, median household income, the existence of competition, among others.
Training
As a memeber of the Crepes A La Cart franchise team, you will receive the following training:
Initial Training-
Held at franchisors headquarters in Breckenridge, for two to three weeks, beginning approximately eight to twelve weeks before the franchisee is scheduled to open for business.
Onsite Training-
Held at the franchisee's location for 7-10 days to assist in the commencement of operations.
Refresher Training-
Franchisees will be required to attend up to two days of refresher/update training per year in up to two sessions.
Ongoing Training-
Crepes A La Cart will provide continued support with sales, operations, territory management and compliance.
Qualifications
Types of qualifications recommended for potential franchise owners include:
Strong sales and customer service abilities. Good with organization.
High personal standards.
Able to meet initial investment requirements.
Targeted experiences may include:
Existing business owner.
Restaurant professionals.
Businesses involved in the food-service business.
Entrepreneurs/investors/believers in the brand.
Interested? Complete the form for more info on this owner opportunity.