STATE OF THE ART CLEANING AND SANITIZING SERVICES
BanTec Sanitizing was founded in 2019 to provide cleaning and disinfecting services to high-touch services, bathrooms, blinds and drapes, furniture, and all hard floor surfaces.
BanTec technicians are trained to ensure that surfaces are properly cleaned with residue removal, tested, and sprayed
as needed. After the COVID-19 pandemic hit in 2020, BanTec has expanded its services to bring a thorough cleaning and disinfecting service to all businesses.
WHY YOU SHOULD FRANCHISE WITH BANTEC SANITIZING
BanTec Sanitizing is a turnkey mom and pop business that brings a valuable and much-needed service to the community.
SIMPLE-TO-OPERATE
Our topical services require minimum training and are expandable as new regulations and guidelines are created.
SCALABLE MODEL
Through our experience, we have developed a proven system and process. Our business model is easily scalable by adding additional vehicles and staff.
HEALTHY PROFIT MARGIN
BanTec Sanitizing is an affordable step into the cleaning industry with our streamlined process and consistent delivery of quality.
ARE YOU A GOOD FIT FOR BANTEC SANITIZING?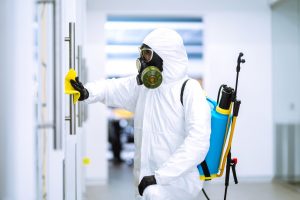 We are seeking franchisees who have the following qualities to join our team:
Incredible Work Ethic, Discipline, and Integrity
Strong Client Service Skills
Willingness to Work in a Vehicle Daily
Meet Financial Requirements
Leadership Mentality
CLEAN SUPPORT
FULL TRAINING PROGRAM
An extensive dual-phase initial training program will help you get started with all the knowledge you need to run a BanTec Sanitizing franchise.
OPERATIONAL SUPPORT
We will provide ongoing training and support in many areas, including unit operations, maintenance, customer-service techniques, product ordering, pricing guidelines, and administrative procedures.
MARKETING SUPPORT
We will coordinate the development of advertising materials and strategies, consumer marketing plans, and materials.
ONGOING BUSINESS DEVELOPMENT SUPPORT
We will provide our continued research methods and techniques to enhance unit-level profitability.
THE NUMBERS
FRANCHISE FEE: $25,000
ESTIMATED MINIMUM INITIAL INVESTMENT: $20,050 to $114,300 (with franchise fee)
ROYALTY FEE: 8% of Gross Sales
Are You Ready to Make a Difference in Your Future with Owning a BanTec Sanitizing Franchise?
Take the next step in becoming a part of the BanTec Sanitizing team.
To learn more, visit our website at bantecinc.com or email us at [email protected].